Heat Treated ISPM15 Certified Wooden Pallets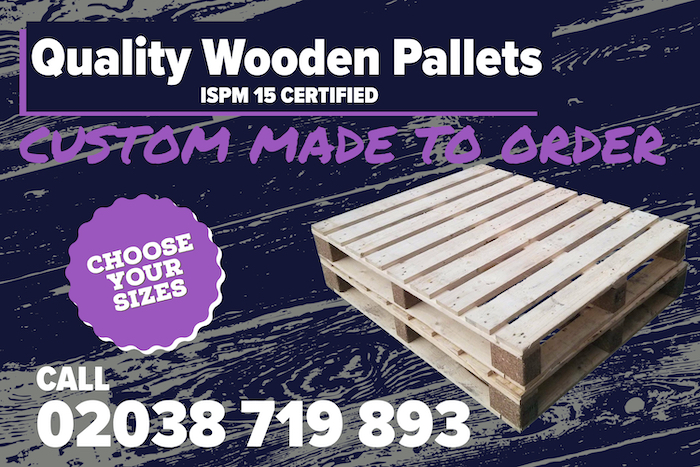 Strong custom made timber or wooden pallets. We can custom manufacture the ideal size pallets for our customers throughout London.
If you're attempting to ship something where the footprint of a standard or Euro pallet just isn't going to be suitable, we can custom make single or multiple pallets in the exact sizes you need. We can do so with extremely short lead times to meet any urgent shipping deadlines you may have.
Chemical Free Custom Made Wooden Pallets ISPM 15 Heat Treated
Our bespoke & custom made wooden pallets are all suitable for exporting goods as they're produced using ISPM 15 certified timber. We use heat treated timber for our pallets & we do not use or supply methyl bromide chemically treated wooden pallets. Our custom size wooden pallets can of courtse be used for shipping goods internationally to countries with bans on the import of untreated wooden packaging, such as: the USA, Canada, Australia, India & all European countries since Brexit & the U.K. leaving the EU.
Not only can our heat treated ISPM 15 pallets be tailor made to the sizes you need — they can also easily be produced for the specific weight of the goods you plan to ship. So if you have extremely heavy goods to send it's not a problem. We will simply build the pallets to the specification required.
Our case-makers can also produce crates & cases with pallet bottoms if you'd prefer a little more side protection for your shipment.
Our case making workshops are used to working to pressing deadlines and can turn work around quickly if a customer has a fast approching shipping deadline themselves. We will always produce your pallets & cases quickly but please let us know when ordering if you need them delivered by a certain date.
We understand that delivery to some parts of London in larger vehicles is often difficult, so our huge fleet of various sized courier vans should make delivering your pallets easy & trouble free.
Call London 02038 719 893 for more information on custom made new pallets.
If you are after used wooden pallets visit www.pallets4sale.uk