Buy Great Quality Wooden Crates & Cases in London
Our custom made wooden shipping cases, crates & our open wooden pallets are perfect for protecting goods being transported around the U.K. or Internationally. We can quickly manufacture new wooden crates & cases to the exact sizes required by our customers in London.
Wooden Shipping Crates & Cases for Art or Machinery
Of course all of our timber packaging is ISPM 15 certified for export, so whether you need wooden cases & crates for valuable art or other goods you've sold our custom made crates & cases are ideal for protecting UK shipments or for international shipping. They are also exactly what's needed for transporting heavy industrial machinery domestically or to worldwide destinations.
Wooden Shipping Crates & Cases for Motorbikes & Cars
We regularly supply bespoke wooden packing cases for motorbikes & even classic cars to clients in London and many other customers all over the UK. The ISPM 15 export compatible packing cases allow safe & secure export of vehicles to international destinations with import restrictions on untreated timber or simply enhanced protection for transporting cars & motorbikes around the UK. Our cases and crates for classic & vintage vehicles are often bought for enhanced storage purposes. So whatever you plan to ship, we would be delighted to quote on heat treated wooden export crates & containers to protect your shipment.
Wooden Shipping Crates & Cases for Personal Possessions
Wooden cases are also perfect for protecting personal possessions during transit. So if you are emigrating or have a second home on the continent and want to ship personal possessions such as a large screen TV & furniture safely, then our wooden cases & crates will provide fantastic protection.
Fast Production With Short Lead Times For Your Deadlines
We can produce your wooden packing cases & crates very quickly if you're working to tight shipping deadlines. Please advise a member of our team when you intially contact us that you are working to a deadline & we will advise if we can meet them. We can usually produce wooden packaging on the day of order if you really have left things late & desperately need it.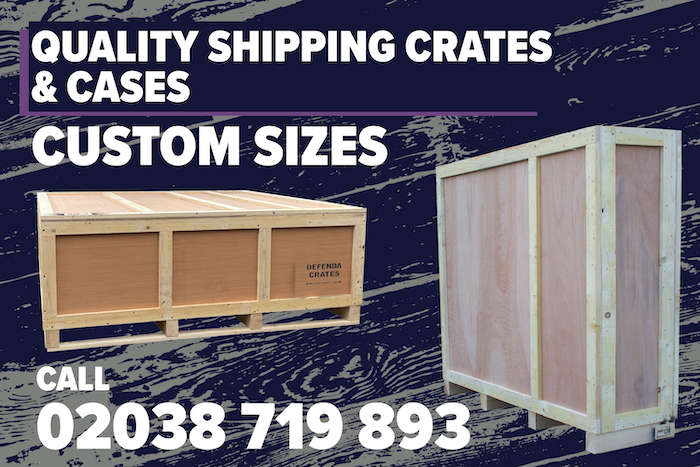 Consolidated Shipping Service Once Your Wooden Case Has Been Packed
Why not also ask us to quote on your shipping? As a transport company & freight forwarder we can nearly always provide lower quotes on international deliveries. With our regular European & intercontinental shipments it may be possible to provide discounted groupage rates on LCL shipments.
We also run dedicated vehicles into Europe, so if you require point-to-point delivery then we can handle that too.