Custom Made Wooden Shipping Crates & Cases
We Supply ISPM 15 Certified Wooden Shipping Crates & Cases To The Exact Specification You Require
Fast Production Of Wooden Crates & Cases For UK Shipping Or Export
Custom Wooden Export Shipping Crates & Cases Supplied To Companies Across London.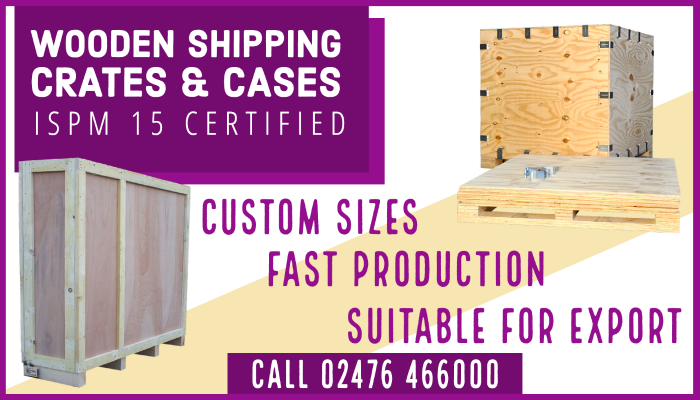 Wooden Crates Made to Your Specification & Delivered Quickly Throughout London
We manufacture wooden crates & cases that are ISPM 15 certified / compliant for London businesses or individuals needing to protect goods or possessions destined for export. They can of course also provide superior protection for goods being moved around the U.K. that require enhanced protection over that which is provided by a standard open pallet.
Custom made heat treated wooden shipping crates or cases in London. Whatever size custom made crates you want in whatever quantity you need them – we can help. Just give us a quick call to discuss your project with a member of our friendly production team on London 02038 719893 or email us for a quote.
Shipping Your Wooden Crates in London
Not only do we produce high quality shipping cases and other transit packaging but once your item is in its crate or case, we can also provide extremely competitive shipping rates in one of our own fleet of vehicles or by working with one of our large group of international shipping partners. Our European & global shipping rates are extremely competitive so it's well worth touching base for a no obligation quote.
So whether you require U.K. transport or need the items delivered to a European or Worldwide destination we can almost certainly help.
Our wooden cases & crates can be produced in timber suitable for your goods' destination. So if your items are being sent to the USA, Canada, EU member states or other countries that require treated timber we can produce them in ISPM 15 certified wood to achieve compliance with any rules a country might have on the importing of wood or timber used in packaging.
UAE, Dubai & Qatar are also regular destinations for clients exporting various goods including large screen TVs, LED / LCD panels for video walls and other exhibtion stands & equipment. We offer highly competitive shipping to these and many other destinations..so get in touch.
In addition to providing a range of custom export crates for things like large screen TVs & monitors, we produce export crates, cases & containers for a wide range of other products, including: antique furniture, musical instruments, bulk automotive components and vehicle chassis, motorcycles & even complete cars & other collectible vehicles.
Artwork, requiring protective wooden cases for domestic U.K. shipping or for export can easily be catered for with very short lead times. So if you need wooden shipping crates & cases for paintings, prints, sculptures or any other art — simply contact us for more information.
We can also produce ISPM 15 certified custom wooden pallets in the sizes our clients need. Our London customers can benefit from custom made timber pallets designed with the exact footprint they require & built to handle extra heavy goods if needed.
Flat Pack Custom Made Crates (wooden packing cases are easily assembled & disassembled for convenient storage or return to sender)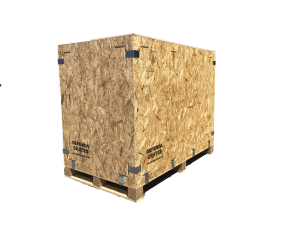 Flat Pack Wooden Shipping Cases
We make custom size export Shipping Crates & Packing Cases which are easily collapsable and easily assembled — they are very sturdy for international shipping and constructed from Plywood, Oriented Strandboard (OSB) & Presswood Blocks — meaning they are exempt from requiring ISPM 15 certification when being used for exports to countries such as the USA, Canada amongst others.
New Pallets, Used Pallets, Heat Treated (Export) Pallets, Pallet Collars, Pallet Lids & Accessories Also Available.
For accessories such as plastic / polythene pallet toppers, plastic & cardboard pallet edge protectors & pallet hand strapping tools — visit our sister company DEFENDAPACK or for wooden pallets call or email us.
Wooden crates, cases, containers & dunnage used for protective export packaging is IPPC ISPM15 CERTIFIED. The International Plant Protection Convention certification ensures that pests such as bugs, fungi etc do not enter eco systems causing serious environmental damage to the receiving country. ISPM15 timber is sometimes referred to as bug stamped or wheat stamped or corn stamped due to the IPPC logo on the timber which incorporates a wheatsheaf.
Wooden export pallets & shipping crates for export will have been treated with methyl bromide or heat treated and will carry the appropriate stamp and licence details. Our London customers will be pleased to know that as a company we do not produce chemically treated packing crates or cases for exporting goods. All of our timber crates & cases are heat treated for environmental reasons.